ZOOM Platform Podcast - Episode 2 - Reminiscing about the Fifth Generation (N64, PS1, Saturn, etc.)
The second official ZOOM Platform Podcast is now available

!
This time we discuss the Fifth Generation (Nintendo 64, Sony PlayStation 1, Sega Saturn, etc.)!
iHeartRadio: Coming Soon!
YouTube:
ZOOM Platform Podcast - Episode 1 - The Pilot
The first official ZOOM Platform Podcast is now available

!
iHeartRadio: Coming Soon!
YouTube:
Table Of Contents:
0:00 - Theme song introduction.

0:25 - Podcast team introductions – Cameron, Jordan, and Max tell a little bit about themselves.

2:37 – The guys discuss the first computer/video games they ever played. P.S. All three started with MegaRace.

6:46 – Max and Jordan reminisce about the Knowledge Adventure titles.

9:21 – Max talks about game glitches and modding.

11:45 – The boys discuss the Midtown Madness series.

12:43 – The guys talk more about games from growing up, including GoldenEye, Jane's Combat Simulations, Pokemon Stadium, Age of Empires, and many more.

19:22 – Max discusses Beetle Adventure Racing's surprising Need for Speed origins.

20:48 – Jordan brings up one of his all-time favorite racing games, well, one of his all-time favorite games period, San Francisco Rush 2049.

23:47 – Jordan brings up another of his all-time favorites, Burnout 3: Takedown.

26:01 – The boys discuss more of their favorite racing titles, Full Auto and Full Auto 2: Battlelines from Pseudo Interactive (Creators of Cel Damage), and they continue professing their love of Burnout.

28:59 – Cameron talks about one of his favorite franchises, the Driver series.

32:05 – The guys discuss the SpyHunter Midway re-make for GameCube, PS2, and Xbox.

33:43 – Max discusses his favorite game soundtracks and video game composers including MegaRace's Stephane Picq. Jordan also mentions one of his favorites, former Hitman series composer, Jesper Kyd.

36:15 – Max reveals an interesting soundtrack crossover link between Need for Speed and Mass Effect.

37:41 – Max talks about the bizarre GameCube port of Need for Speed: Hot Pursuit II.

38:30 – Max brings up how the GameCube is based on PowerPC architecture and Jordan adds in how the Xbox 360 is also based on the same technology.

39:18 – Jordan brings up one of his favorite game designers, Ed Logg of Midway.

40:41 – Max discusses Eugene Jarvis of Williams and the Cruis'n series.

43:01 – The boys discuss their favorite arcade games at Chuck e' Cheese's, etc including the SNK Neo Geo, Time Crisis, House of the Dead, X-Men, Rail Chase 2, Chase HQ, AeroFighters/Sonic Wings 3, Lethal Enforcers, Area 51, Virtua Cop, Jurassic Park, Star Wars Trilogy, and more.

49:52 – Jordan slips in how a modded Xbox with 128 MB of RAM can run Virtua Cop 3.

50:14 – Jordan reveals what type of game GoldenEye was supposed to be on Nintendo 64, along with how the multi-player functionality was added at the very last minute.

51:03 – Max talks about how GoldenEye almost also appeared on the Virtual Boy.

51:59 – Cameron brings up 007 Racing and Jordan discusses his love of all things GoldenEye, including the Eric Serra soundtrack. Jordan also discusses his favorite James Bond games.

53:17 – Jordan talks about the id Tech 3 engine links between Quake 3: Arena, Medal of Honor: Allied Assault, and the Call of Duty franchise. He also mentions how the developers of Medal of Honor: Allied Assault would go on to create Call of Duty.

54:34 – Max brings up the origins of the x86 and x64 architectures and the boys discuss how young the medium of interactive entertainment is. They also discuss the deaths of some gaming industry legends and the various console wars.

59:09 – The guys discuss their love of the Metroid series and their mutual excitement for Metroid Prime 4.

1:09:08 – Max brings up Halo: Combat Evolved and the boys quickly discover that it's a mutual all-time favorite, especially the PC port by Gearbox Software.

1:10:32 – Jordan brings up another fantastic Gearbox Software port,
Half-Life on PS2.

1:10:43 – Jordan slips in that his grandfather's name was indeed, Gordon Freeman.

1:10:50 – Cameron mentions that his favorite version of Half-Life is the PS2 version and very articulately explains why. Jordan agrees and adds some other points. The boys then continue discussing their favorite Half-Life/Valve experiences. Max's favorite is Garry's Mod and Cameron's favorite is CounterStrike.

1:15:45 – Cameron talks about how CounterStrike was his first online game and tells a funny story that happened to him while playing it.

1:18:05 – Jordan reveals his first online games were Quake 3: Arena and Unreal Tournament. Max mentions his first online game was Halo: Combat Evolved for PC and tells some funny anecdotes from his time playing the game. The boys then continue reliving their Halo PC and Halo Xbox Split-Screen days.

1:23:30 – Cameron brings up Overwatch and then he and Max go very in-depth about how much they love the franchise. Max mentions how the game is also attracting a female audience and shares his opinions on game and toy marketing.

1:32:00 – The guys talk about the Switch, Wii, and Wii U's effects on the industry. They especially talk about Splatoon.

1:34:15 – The conversation moves to the boys' favorite controllers and also the many controller design histories.

1:43:08 – The guys suddenly realize their pilot episode has been going on for nearly two hours and decide to wrap it up. Two of them think they did a good job, one does not.

1:44:06 – The end for now…
3D Realms Partnership Announcement For Shadow Stalkers
Today, the Phoenix-based entertainment software and technology companies, Jordan Freeman Group, LLC, (JFG) and ZOOM, LLC (DBA: ZOOM Platform) officially announced Shadow Stalkers, an emergent action-adventure stealth espionage video game featuring two major Hollywood stars. Shadow Stalkers will be released episodically and each game episode will feature an additional guest star. JFG and ZOOM Platform have partnered with 3D Realms (Duke Nukem, Max Payne, Prey, Rad Rodgers, and Wolfenstein 3D) to develop Shadow Stalkers with Epic Games' Unreal Engine 4.
Shadow Stalkers is set to be released for PC/Mac/Linux and published by Sony as a console exclusive for their PlayStation 4 in 2018.
Jordan Freeman, CEO of JFG and ZOOM Platform's Chief Creative Officer, released a joint statement with ZOOM Platform's Executive Chairman, Bernard Stolar: "It is with great pleasure that we announce Shadow Stalkers. We are ecstatic to be collaborating on the project with legendary 3D Realms. As an independent company, 3D Realms' stellar track record of successful original intellectual properties speaks for itself. From Max Payne to Prey to Duke Nukem, their success is unparalleled. We are also excited to announce that we have been in extended discussions with Xsolla Capital to launch the project and have an intended close of June 30th 2017. We look forward to working on multiple projects including our MegaRace Reboot and TREMORS games with Xsolla Capital, in the very near future."
Scott Miller, Founder and Chief Creative Officer at 3D Realms, had this to say: "All of us at 3D Realms are super excited to develop this game, which we see as a delicious blend of James Bond, Max Payne, and Hitman, with unique ingredients added in to make it even more tasty. If there's one thing 3D Realms has a history of, it's coming up with unique types of gameplay. We plan to put the same innovative efforts into Shadow Stalkers."
Freeman of JFG and ZOOM Platform added: "Shadow Stalkers will prove monumental in the history of video games for several reasons. It will be the first time ever that a game was conceived directly with the talent first before going to a publisher and it will be the first time a game features guest stars in each episode much like a TV show would. Last but not least, Shadow Stalkers will re-define the Trans-Media Intellectual Property Eco-System by converging entertainment mediums and releasing a successful hybrid product combining the best of all worlds."
About ZOOM (a Jordan Freeman Group company):
ZOOM's mission is to design, create, and publish traditional and interactive entertainment with a Generation X trans-media appeal. ZOOM's products will be distributed digitally via, ZOOM Platform, along with non-exclusive third party content from both major publishers and indies with a catalog spanning the classics to new releases. ZOOM has a world-class management team with veterans from all facets of the entertainment and technology industries.
ZOOM's Executive Chairman, Bernie Stolar, is a 30+ year veteran of the video game industry. As the first EVP of Sony Computer Entertainment America, Bernie helped introduce the PlayStation to the gaming world. As President/COO of Sega, Bernie led the launch of the Dreamcast console, the most successful console launch in the history of the industry. Stolar was also Google's Games Evangelist after the acquisition of his Firm, AdScape Media.
ZOOM's Chief Creative Officer and Founder, Jordan Freeman, conceived the ZOOM Platform project and built its first prototype. He also formed the Jordan Freeman Group development arm of the Company, which will focus on building franchises around ZOOM technology. These franchises will be published and distributed on ZOOM Platform. Before ZOOM, Freeman was Founder and Chief Technical Officer at Head 2 Head Gaming.
ZOOM's Chief Financial Officer, Bernie Gilhuly, CPA, was previously SVP at One World Networks, CFO at Tribe Management Partners, and at present is a Managing Partner at LL Business Management. Bernie brings 20+ years of experience in entertainment industry finance to ZOOM.
About 3D Realms:
3D Realms is a leading episodic and online-based games studio co-founded in 1994 by Scott Miller. With the 3D Realms team, Miller has co-created and co-designed three major game franchises, with sales totaling over 18 million units: Duke Nukem, Max Payne, and Prey. In 2002, the Max Payne IP was sold to Take-Two Interactive in a deal totaling $48 million, the first deal of its kind in the industry. In 2008, Max Payne would become a 20th Century Fox motion picture starring Mark Wahlberg. In 2014, 3D Realms was acquired by SDN Invest.
Official Link: http://lightningreleases.com/jordan-freeman-group-and-zoom-platform-announce-3d-realms-partnership-for-shadow-stalkers-episodic-computer-and-video-game-series/
Arcade Attack Interviews: Scott Miller
Hanging Out With Andy Dick!
ZOOM Platform CEO, Jordan Freeman, had a blast on his latest business trip to Los Angeles!
Here he is hanging out with his comedian buddy, Andy Dick (MTV's The Andy Dick Show and NewsRadio), along with his wife, Lina Sved!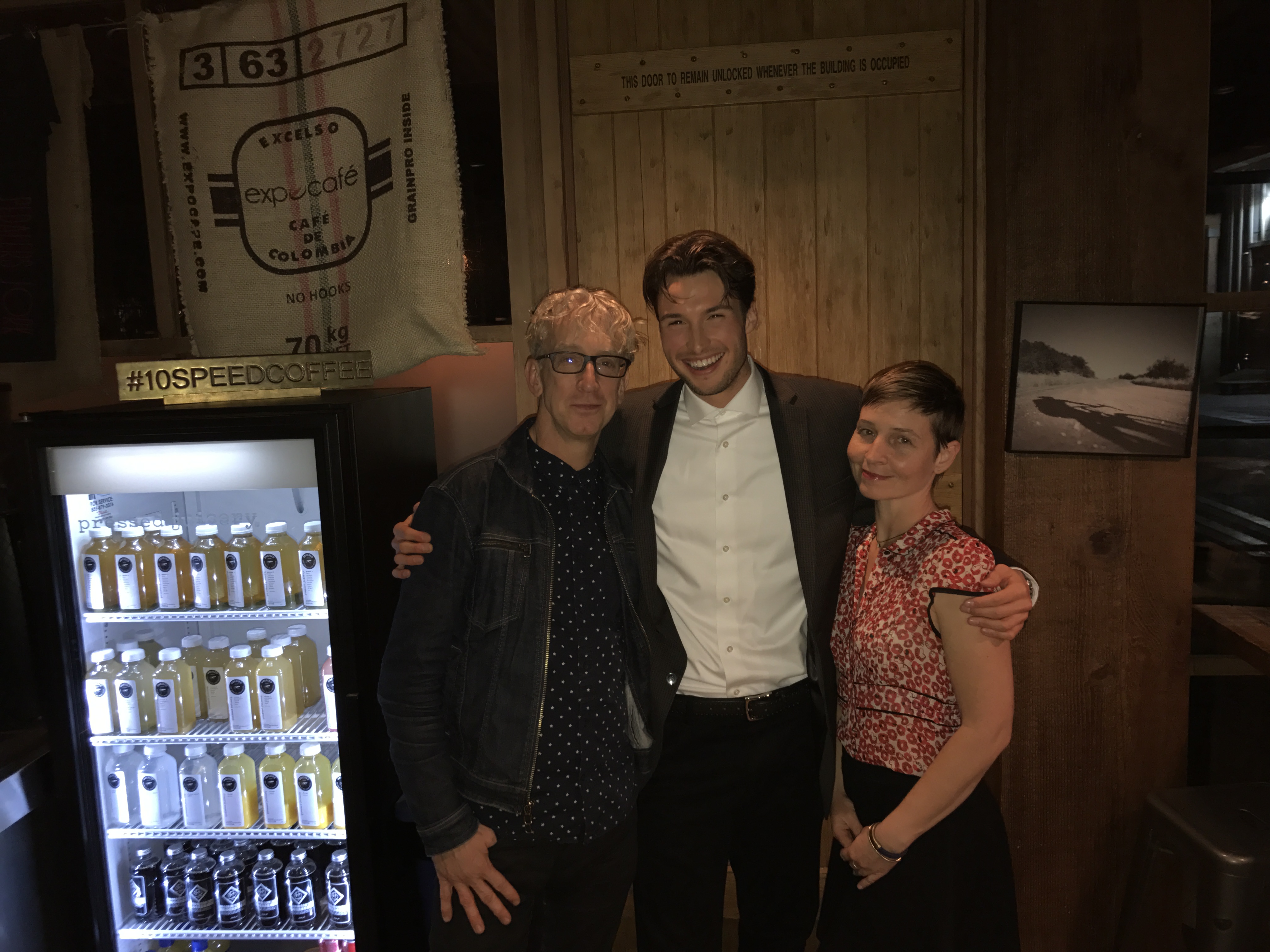 (Andy Dick, Jordan Freeman, and Lina Sved)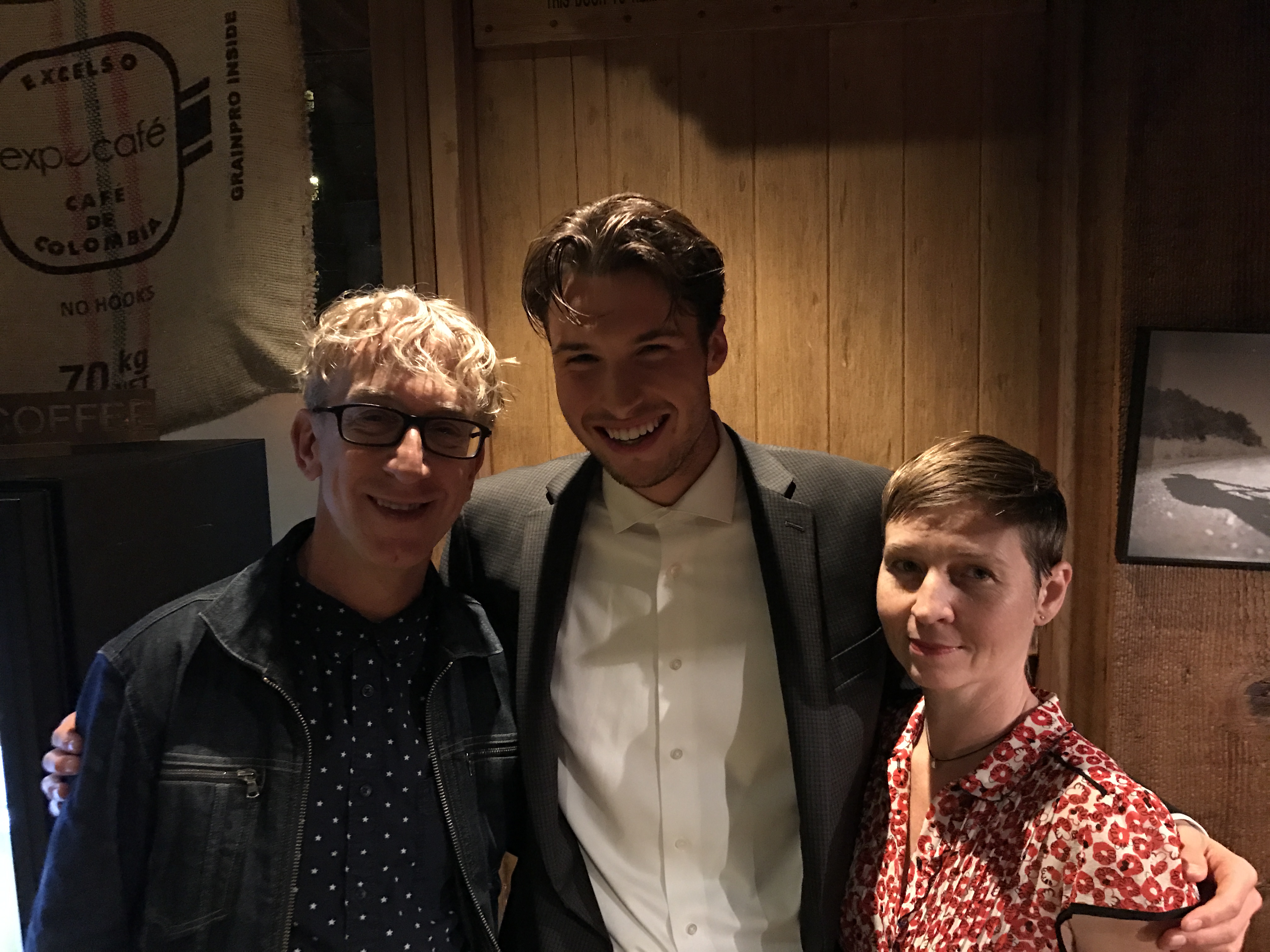 (Andy Dick, Jordan Freeman, and Lina Sved)